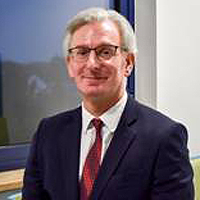 Ian has worked professionally in the field of environmental management for most of his career.  After 20 years in the chemical industry, based in Cambridge, he moved to Northern Ireland in 2001.  He joined WRAP in 2003 to head WRAP Northern Ireland and established WRAP Northern Ireland as a key resource efficiency delivery body.  WRAP (the Waste and Resources Action Programme) works with governments, businesses and communities to deliver practical solutions to improve resource efficiency and Ian is WRAP's main point of contact for the Northern Ireland Government and Northern Ireland Stakeholders
He has worked in the fields of materials resource management, industrial waste management, wastewater treatment, contaminated land regeneration, chemical manufacturing and production process research and development.
He has a PhD in Applied Microbiology from the University of Strathclyde and is a Chartered Environmentalist, a Chartered Water and Environmental Manager and a Chartered Biologist.