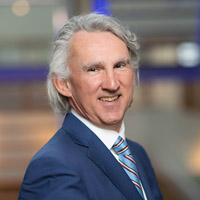 Leo Donovan, CEO, WEEE Ireland

Leo Donavan is the CEO of WEEE Ireland, Ireland's leading compliance scheme organising the environmental management of Waste Electrical and Electronic Equipment (WEEE) and waste batteries. Leo has more than 25 years' experience in the electronic recycling business in Ireland and has been at the helm of WEEE Ireland since the organisation was founded in 2005. Leo represented the Irish Waste Management Association (IWMA) on the government task force which was set up in February 2003 to review the transposition of the WEEE Directive into Irish law.
Since then Leo has been actively working on the implementation of the WEEE and Battery Regulations into operation in Ireland. Leo's expertise in accountancy and financial management of e-waste recycling systems has been at the forefront of his leadership for a cost effective solution for Producers of electrical appliances and batteries onto the Irish market since 2005. This focus is one he will maintain as Ireland works towards the next decade of environmental management of waste as a resource opportunity under the developing EU Circular Economy Package.
In addition to his role as CEO of WEEE Ireland, Leo also holds numerous roles across industry committees and European Forums such as the National Waste Forum, WEEE and Battery Monitoring Committee, Green Public Procurement 4 Growth, WEEE Forum, Eucobat, and WEEE Europe. Through these forums Leo works closely with the Department of Communications Climate Action and Environment(DCCAE), The EU Commission and numerous national/international associations such as White Goods Association, IBEC, Digital Europe, European Portable battery association(EPBA) and the European Electronic Recyclers Association (EERA).