Co-Founder and Chairman
Tony's greatest passion is solving problems with disruptive technology.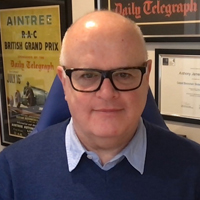 Tony created Reward4Waste in 2018 with the mission to reduce waste through pioneering digital technology – focussing on unique coding to bring traceability and transparency to all items placed in market.
A technology expert with over 40 years experience, Tony has worked on Mainframes, Minicomputers, Distributed Systems, and has been around for the birth of the Email, the Internet, the Cloud and in the last decade, the rise of everything from Mobile to Blockchain to AI.
Tony is a founder member of the Oxford Blockchain Foundation, a member of the London Blockchain Foundation, the British Blockchain Association and the All Party Parliamentary Group on Blockchain and A.I.
Tony received certification for completion of the Oxford Artificial Intelligence Programme from University of Oxford Said Business School.
Previous to Reward4Waste, Tony has developed innovative solutions ranging from mainframe internet connectivity and hybrid consumer-facing systems, additionally he has delivered a host of commercial applications that bring competitive advantage to multi million projects for the likes of Central TV, Swiss Life Group, Honeywell, and JCB.